Kirchenfest: 42 Years of Fun and Festivities!
ABOUT THE KIRCHENFEST: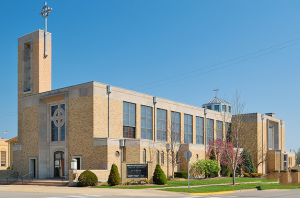 St. Paul's Kirchenfest has grown in size, attendance and excitement ever since the first event was put on in 1970.
Highland, Illinois is primarily a Swiss/German community and you'll find plenty of German food and German flair on your visit to the Kirchenfest.
This August, come join us! We guarantee you'll have a terrific time. Enjoy the best food, games, and entertainment around!
Please spend a few minutes browsing our website and discover why the Kirchenfest has become the Premier Church Festival in Southern Illinois!
ABOUT OUR PARISH:
St. Paul Catholic Church is located in Highland, Illinois and is one of the larger parishes in the Diocese of Springfield. St. Paul ministers to nearly 1800 families and offers four Masses on the weekends.
The six acre parish campus is comprised of a Church, a Catholic School, a Parish Center & Gymnasium and a Rectory/Office.
St. Paul Parish offers a fine Catholic education to the children of the community through St. Paul Catholic School. We're proud to say our Catholic School is one of the best in the diocese and you can learn more about it by visiting the school's website!
PARISH STAFF:
The Parish Staff is led by Father Charles Edwards ("Father Chuck"), a Parochial Vicar, Father Paul Kala and Deacon Ron Hesson, the parish's Executive Manager.
A Message from Our Pastor…
Dear Friends,
Welcome to St. Paul Parish and to our 40th annual celebration of "Kirchenfest!"
We hope you and your family and friends will join us and enjoy all of the wonderful fun-filled events of this two-day Church Picnic: great music, an unbelievable auction, fun games and activities and a wide variety of food and beverages.
On Sunday, we'll have a special Outdoor Polka Mass at 10 a.m. and it will be followed by our famous "Chicken Dinner" with all the fixin's. There's so much more… Kirchenfest offers you a weekend like no other!
You will feel right at home at our Kirchenfest. Hundreds of parishioners and others from our community will welcome you with open arms, sharing with you the "KIRCHENFEST SPIRIT" of hospitality that we are well known for and why so many visitors keep coming back.
We have our area hotels with whom you can stay at and they'll make you feel at home as well. You'll find a list on this page.
As pastor of St. Paul Parish, I am proud of what Kirchenfest is all about and I personally want to welcome you to our parish grounds this coming August 24-25. Yes, the fun is "in tents" (intense) and I promise you a weekend to remember. Hope to see you at "KIRCHENFEST 2013!"
Sincerely in Christ,

Tell Your Friends About The Kirchenfest!
The Kirchenfest is a weekend filled with fun and you'll want to share the festivities with your friends. Here's a few ways to spread the news about the Kirchenfest: